Who we are 🤗
Our Mission
We rescue and protect companion animals by providing for their wellbeing, uniting them with loving homes, and advocating for a compassionate society.
Our Vision
We envision a society where all dogs and cats have a loving home and the bond between pets and people is celebrated.
AAHS Staff Members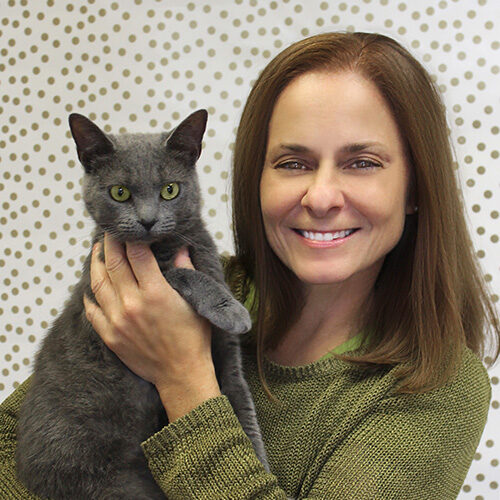 Pronouns: she/hers/her
Cheryl McCormick is a nonprofit CEO with a passion for fund development, board relations and strategy development and execution. Her highest calling is generating excitement and momentum around an inspiring vision that strengthens organizational commitment and attracts donor investment.
Dr. McCormick is the CEO of the Athens Humane Society and Founder of Ascend Nonprofit Consulting & Executive Coaching, providing fundraising services, strategic planning, and board training to small and mid-sized nonprofits. She has served as Executive Director of several California-based NGOs, including AIM Youth Mental Health (Carmel), Lindsay Wildlife Experience (Walnut Creek), YWCA Monterey County (Salinas), and the American Cetacean Society (Los Angeles). She also served as Director of Conservation at the Santa Lucia Conservancy (Carmel).
Dr. McCormick received a BA in Environmental Science from the State University of New York at Plattsburgh, MA in Geography (GIS & Remote Sensing) from the University of Georgia, and Ph.D. in Ecology from the Institute of Ecology, University of Georgia. In 2018, she received an appointment as Visiting Research Scientist at the Center for Geospatial Research at the University of Georgia, directing graduate research investigating anthropogenic impacts in the Loreto region of the Peruvian Amazon.
In 2019, Dr. McCormick received a Certificate in Fund Raising Management (CFRM) from the Lilly Family School of Philanthropy, Indiana University. She was certified in 2012 as an executive coach through the International Coach Federation. She is an active member of the Grant Professionals Association (GPA) and the Association of Fundraising Professionals (AFP).
Dr. McCormick is a co-author of Identification and Biology of Nonnative Plants on Florida's Natural Areas (2nd Edition), and has published numerous literature reviews, statewide invasive species management plans and research articles. She has served on a number of nonprofit boards, most recently the Association of Fundraising Professionals, Monterey Bay Chapter and BlueVoice.org. In her personal time, Dr. McCormick enjoys long distance trail running and creating unforgettable artisanal buffalo milk gelato.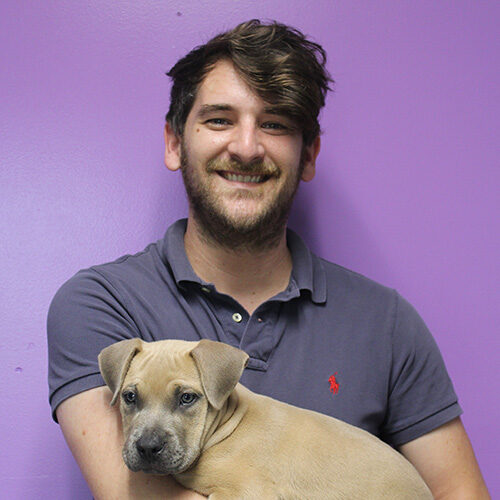 Pronouns: he/him/his
Jed began his professional career with animals in the year 2000 at Bowdon Animal Hospital in his hometown, Bowdon, Georgia. He has always had an affinity for all animals, owning several family pets and farm animals. A particular favorite of his is the humble goat, for their quirky personalities and their cute appearances. Jed would work there until graduation in 2004 before moving to Athens, GA and landing his next job in the veterinary field at South Athens Animal Clinic. He would where he worked until 2014, before becoming a part of the AAHS family in August of 2014 as the Kennel Manager of what used to be just a cat shelter. He would go on to implement a dog rescue program, our widely known food bowl program, a foster/volunteer program, a transport program, and so much more. With his guiding hand and heart, AAHS put itself on the map as Athens' favorite animal rescue. It wasn't long before he was working his way through the ranks and earning himself the title of Shelter Director with 6800 + pets adoptions under his belt and with so many more lives to save. Even as an administrator, he still finds himself amongst the day-to-day action, like personally driving our transport vehicle across state lines for the sake of disaster pet rescue relief during hurricane season. Jed Kaylor now serves as our Program Director, where he hopes to impact more lives and extend our reach even further.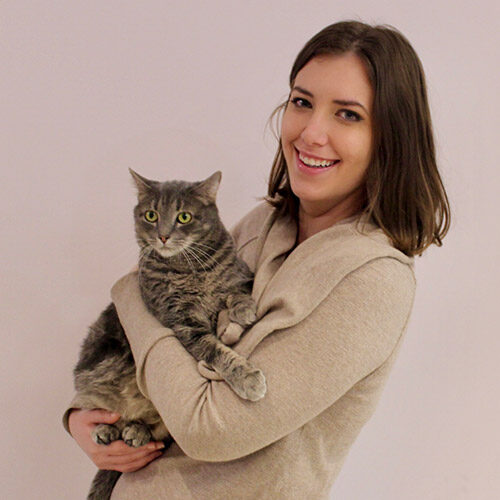 Pronouns: she/her/hers
Kelsey was born in Atlanta and graduated from the University of Georgia in 2013. Before joining the staff at AAHS, Kelsey had a career singing opera and writing fiction. It was through these fields that she discovered her love for story-telling. Finding the words and ways to connect and communicate our unconditional love for animals is the best "happy tale" she can ever think of telling.
Being an animal lover and advocate since childhood, her pets have kept her grounded as she traveled internationally for work. When Kelsey and her husband bought their house in Athens, they discovered a colony of feral cats living on the property. She has fallen in love with community cats and the TNR programs that keep them healthy and safe. Right now, her colony headcount sits at a lucky number 13.
When she's not busy cuddling her two indoor cats (successfully) and her 13 feral cats (less successfully), Kelsey's hobbies include figure skating and mixed martial arts.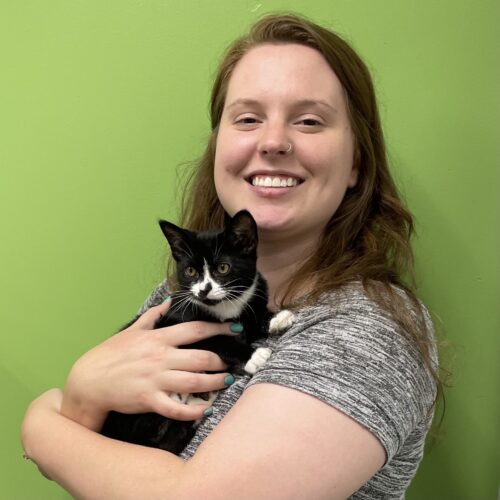 Pronouns: she/her/hers
Born and raised in Georgia, Erin attended the University of Georgia, graduating in 2017 with degrees in Psychology and Communication Studies. She spent a few years trying different things and fell in love with non-profit work. While spending two years in Development at the Clarke County Mentor Program, Erin began a part-time position with us as our Donor Relations & Stewardship Coordinator. When the opportunity arose for Erin to dig deeper into fundraising, she couldn't wait! As of July 2021, Erin is our Associate Director of Donor Relations and helping build relationships with the folks who make our program what it is.
While growing up with pets, Erin didn't fall in love with animals until adopting Cali, a tortie, from the Athens Area Humane Society in 2015. Erin currently resides on a few acres in Oglethorpe County, with her husband, two cats (Cali & Archie), dog (Brooks- AAHS Alum too!), five chickens, and one rooster (Peggy!).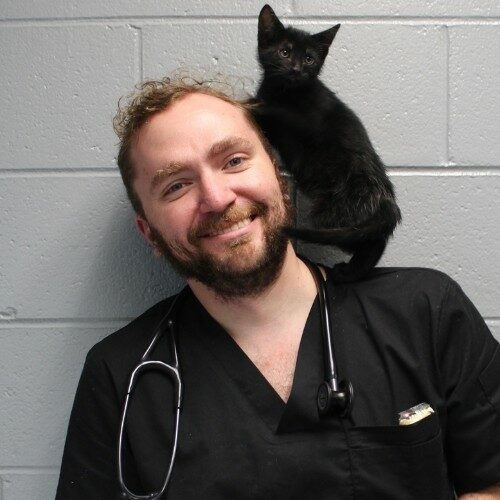 Pronouns: he/him/his
Dr. English is a Class of 2020 graduate of the UGA College of Veterinary Medicine, and he wears the title of "Dawgtor" with pride and panache. Dr. English grew up just down the road in Macon and earned a Bachelor of Science in Biology from Furman University in the upstate metropolis of Greenville, SC . After a brief stint in private practice in Arizona, he is thankful to have the opportunity to return to Athens and is extremely excited to serve the Northeast Georgia community. Dr. English particularly enjoys diagnostic imaging and surgery in the clinic. Outside of work you can find him hiking, kayaking, or enjoying a local beer and a board game.
Fun fact: Dr. English owns approximately 50 succulents!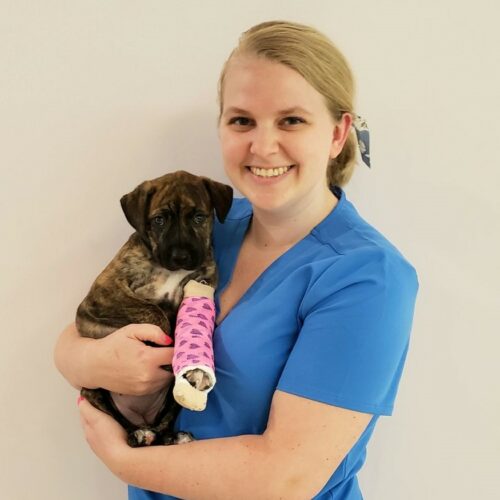 Pronouns: she/her/hers
Dr. Varner is a recent graduate (Class of 2021) of The University of Georgia's College of
Veterinary Medicine. Dr. Varner also received her Bachelor of Science, as well as her Master of Animal and Dairy Science, from the University of Georgia making her a "triple dawg." Dr. Varner is from a small town near Savannah, Georgia but always had big dreams of becoming a veterinarian. She enjoys preventative care, dentistry, soft tissue surgery, and client communication and education. Dr. Varner is married to her husband, Brandon, and has 2 beautiful dogs named Chesney and Millie.
When not at work, Dr. Varner enjoys Zumba and relaxing at home watching TV. She's also an avid Disney fan and frequents Disney World multiple times a year.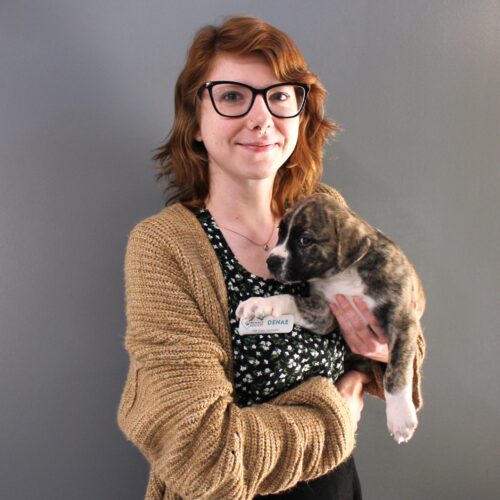 Pronouns: she/her/hers
Denae grew up in the Athens area and moved to Atlanta after high school to attend Georgia State University. After graduating in 2019, she moved back to Athens. She joined the AAHS team in September of 2021 and quickly realized that animal rescue work was her calling. As of June 2022, Denae is the Foster Care Coordinator for AAHS, connecting pets with loving, temporary families.
Denae grew up around animals and has always strived to become a better steward to them by learning more about their behavior, feelings, how they communicate and the ways in which they interact with their world. She has two dogs, one cat, and three guinea pigs. In her spare time, Denae enjoys cooking, playing guitar, hiking, and foraging.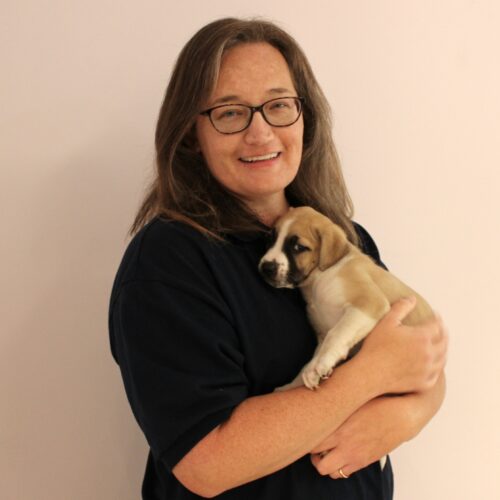 Pronouns: she/her/hers
Heather studied accounting at Lanier Technical College in Oakwood, GA and her background is in banking and construction accounting.
She grew up in Flowery Branch, GA and has resided in the Banks County area for the last 20 years. Heather currently lives on a small/hobby farm in Carnesville with her husband, 4 children, 2 dogs (Birdie & Bug), 2 cats (Pinky & Fatty), 8 goats & 20+ chickens. 🐐 She also enjoys gardening, beekeeping and DIY projects around the farm.
Her love of animals began early at the age of 5 when her brother gave Heather her first pet, a kitten she named Bandit. She was fortunate to have Bandit until she was 17. Her parents and siblings also share this love and they've had many family pets during her childhood.
She is very excited about her position here at AAHS because she can put her professional experience to work helping improve the life of cats and dogs, because they have brought so much joy to her life.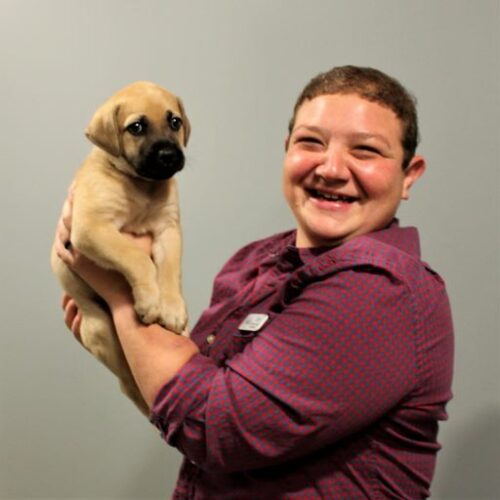 Pronouns: she/her/hers
Vito grew up in Coastal Georgia before moving to Athens to attend the University of Georgia, where she earned a double major in Psychology and Sociology. Like many others, she fell in love with the Classic City and has now called Athens her home for the past 13 years. Before joining the Athens Area Humane Society team, Vito worked at Epting Events, which gave her a chance to meet many amazing people and see many different sides of Athens. One of the moments she will always value about her time at Epting was getting a chance to go feed a group of Afghan refugees in Quantico Virginia. It was this experience that led her to find a job that made an impact, and voila!
Growing up Vito had many animals, and has always had a soft spot for anything snuggly. She and her wife currently have two fur babies, Ramsey and Idgie. Her favorite hobbies include hiking with her doggos, swimming and jamming out to some good ole music.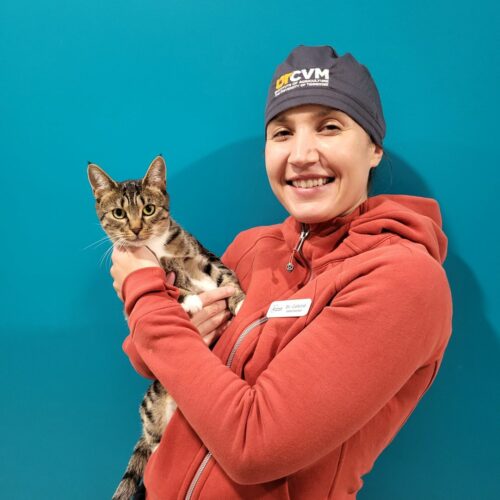 Pronouns she/her/hers
Dr. Calvird is a 2019 graduate of the University of Tennessee's college of veterinary medicine. She completed her Bachelors of Science in Biology at the University of Georgia, so football season is always exciting for her! Dr. Calvird completed a shelter medicine externship at Young Williams Animal Center in Knoxville, Tennessee, then spent 3 years in private practice as an ambulatory veterinarian in North Georgia. Her favorite part of veterinary medicine is helping people through caring for the animals they consider family. Outside the clinic, Dr. Calvird enjoys camping and hiking adventures with her dog Dale as well as running and cycling. She is thrilled to be home in Athens again to serve the community she loves!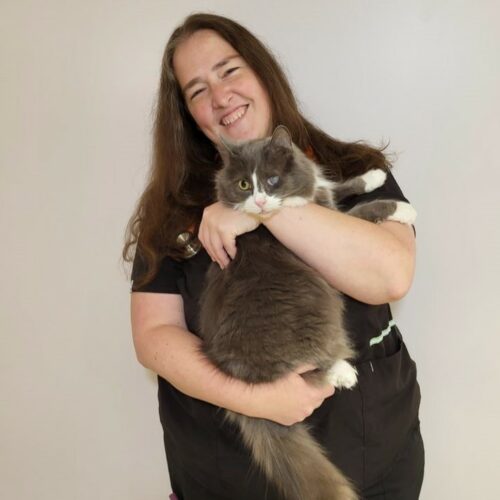 Pronouns she/her/hers
Dr. Simpson graduated from UGA Veterinary College in 2016. Prior to veterinary college, she worked in her hometown with a private practice that provided surgeries for the local humane society in Greenville, SC. After graduating, she worked for 3 years in small animal private practice before deciding to work with a local nonprofit in Duluth, GA. She has been there for the past 3 years serving pets and people in need. During that time, she discovered a passion for surgery, shelter medicine, and rescue veterinary work. Dr. Simpson and her family have been living in a small camper for the past year while waiting for their home to be built here in Athens. Dr. Simpson currently has 2 older dogs, Pepper (Catahoula mix), and Zeke (Great Dane), who saw her through vet school, and recently adopted kitty foster failures, Maybelline and Dior. When not at work, Dr. Simpson enjoys traveling with her husband, reading, and enjoying the outdoors.
Fun Fact: Dr. Simpson used to breed and show betta fish, and she had over 300 betta fish in the basement of her home. Time will tell what the next adventure will be!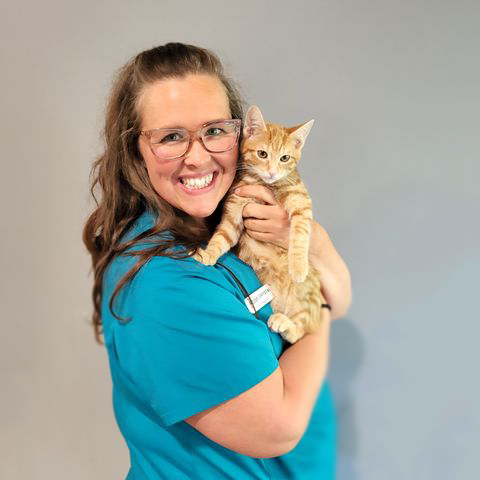 Pronouns she/her/hers
Crystal was born in Athens and has lived here for most of her life. Her love for all things furry, feathered, and scaly began at a very young age, and she has always had a wide variety of species in her life. The Athens Area Humane Society has always been important to Crystal, and in 2021 she officially joined the team as a Licensed Veterinary Technician. As the Clinic Manager, Crystal strives to make the AAHS Spay/Neuter & Wellness Clinic a place where pet owners can seek affordable veterinary care without fear of judgment and where team members enjoy coming to work and go home feeling good about the care they provide and the lives they save. Crystal loves all animals, but is a proud crazy cat lady. She currently has two feline children of her own, Willie and Emmylou, along with two feline step-children Marley and Mando. When she's not at work, she enjoys going to the beach, gardening, being outdoors, visiting theme parks, and spending time with her family and her boyfriend Bryan.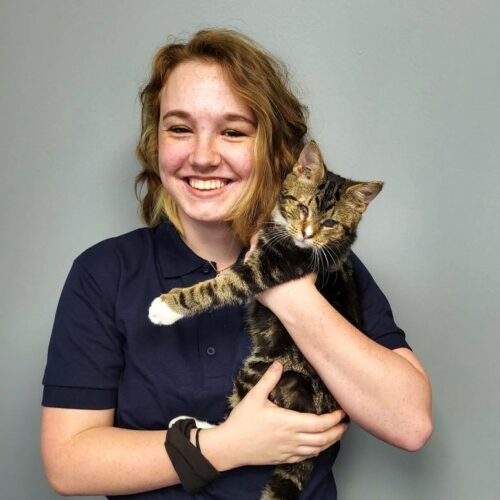 Pronouns she/her/hers
Ashley began her career with animals in April of 2018 as an adoption counselor here at AAHS. She was a freshman at UGA with hopes to become a veterinarian. However, she quickly fell in love with animal rescue and continued to work part time as an adoption counselor. While spending a few years also working in private practice, Ashley realized her love for rescue was a full time passion! She missed being an advocate for animals who had no one else in their corner. After a short stint away from AAHS, Ashley returned in September of 2021 as a lead cat pet care specialist. She was quickly promoted to shelter manager by the end of September given her long rescue experience combined with her additional experience in private veterinary practice. She has a special interest in neonatal kitten fostering, specifically kittens with special needs. She has fostered close to 100 animals, from kittens of all ages to puppies and dogs since 2020. She loves to read, paint, and spend time with her pets. She lives in Athens with her cats Maylene, Dopey, and Stevie and her dog Bandit.
Athens Area Humane Society Board of Directors
Community leaders and animal philanthropists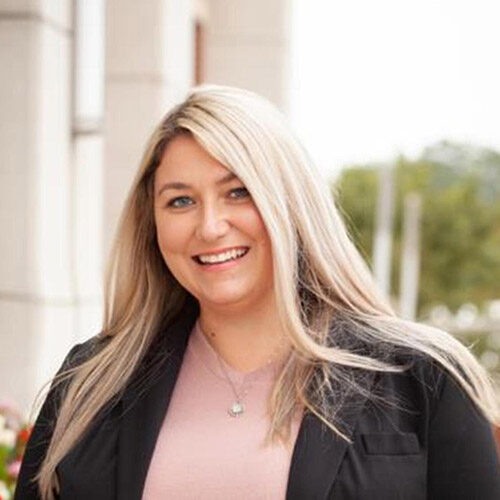 Christina's passion to rescue animals started in early childhood. In addition to the many dogs they adopted from the local shelter, her Dad also helped her catch, rehab and foster stray kittens often found in the neighborhood. Christina brings financial expertise to the board as she is the Retail Market Manager of Synovus Bank in downtown Athens. She has a passion for animal welfare and has four rescue dogs currently. Christina grew up in North Carolina and attended the University of North Carolina at Greensboro before moving to Athens and falling in love with this beautiful city.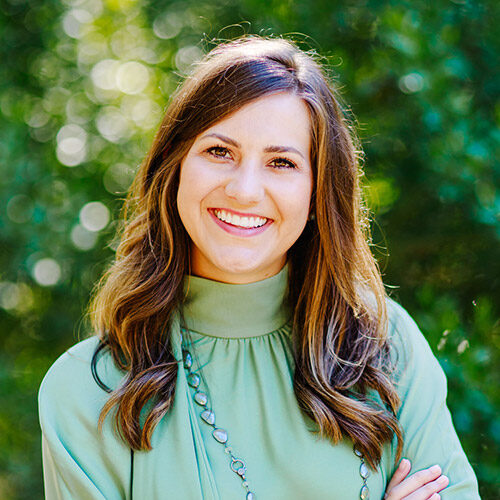 Lindsay Lucas McConnell, Vice President for Phil Hughes Automotive Group. She graduated from UGA's Terry College of Business in 2012 with a BBA in Marketing and never left Athens! Lindsay and her husband, Chuck, live in the Five Points community with their two cats. Tibi and Lucy are bonded pair of shorthair tabby sisters, rescued from an apartment complex dumpster with their littermates in 2015.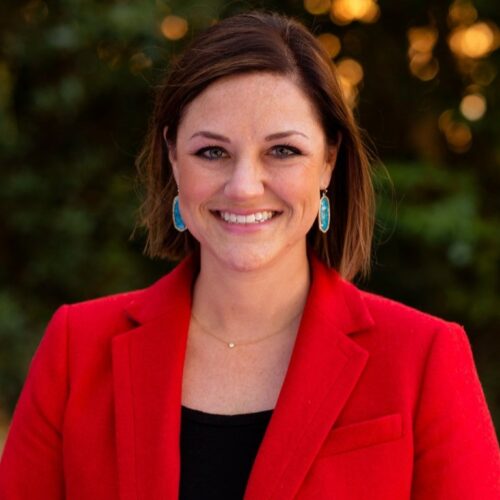 Elizabeth Guest is the Regional Director of Development for the UGA College of Veterinary Medicine. What she loves most UGA Vet Med is the innovative and compassionate veterinary care and the overlapping work on issues that pertain to human health. In her non-work life, you'll find her cheering on the Dawgs at UGA baseball or relaxing at the lake.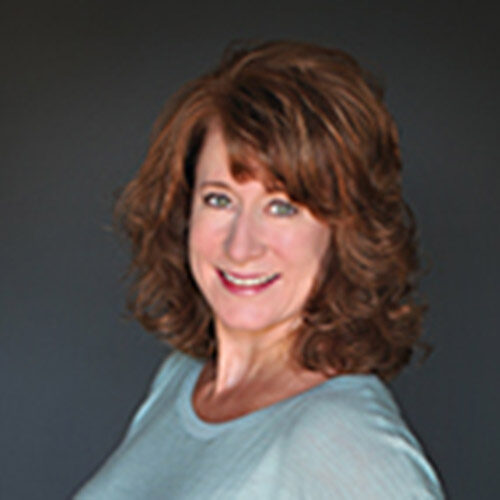 Tracy is a CPA with the local accounting firm Turner and Patat, PC since 1998. She holds a bachelor's degree in Accounting and Business Administration and a Masters of Business Administration. In addition to business and individual income tax compliance, Tracy specializes in working with non-profits of course she does, because her heart is made of gold. In addition, Tracy is part owner of to our local Plato's Closet - Athens, GA. Tracy has a passion for animals and is no stranger to rescue. Her five rescued kitties Annie, Poppy, Laly, Libby & Dottie and her Boxer canine companion named Gracie keep her home life exciting. Fun fact, Annie and Laly AAHS rescue alums adopted in 2008 & 2015. When Tracy isn't advocating for pets, you can usually find her traveling, cooking, gardening, running, biking, kayaking, & teaching trapeze and fabrics classes at Canopy Studio.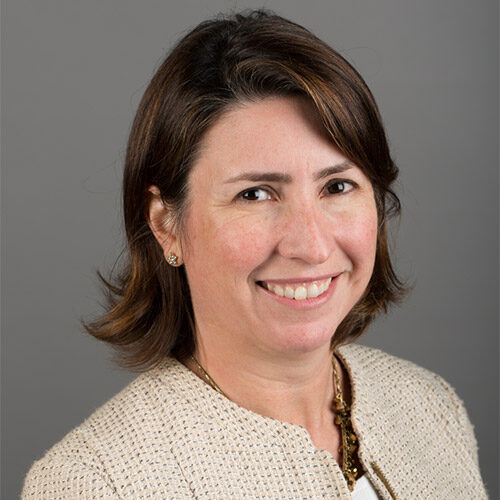 "I am passionate about the benefits that the human and animal bond companionship or positive influence for overall wellbeing."
Monica D. Figueiredo earned her veterinary degree at the Universidade Federal Fluminense, Rio de Janeiro, Brazil. Following graduation, she completed a two-year Equine Internship at the Marion DuPont Scott Equine Medical Center, Virginia, followed by a three-year residency program in Large Animal Medicine at Cornell University, New York. She then moved to the College of Veterinary Medicine at the University of Georgia, where she earned her PhD in the Department of Physiology and Pharmacology. Monica joined Merial, now part of Boehringer Ingelheim in 2008 as a Veterinary Scientist in R&D, where she primarily worked in the area of canine vaccine development. In 2013 she moved to a role in External Innovation in the Biologicals and Pharmaceutical R&D groups in which she worked with the latest technology in a variety of fields related to improving animal health. Monica is now part of the Animal Health Quality team at Boehringer Ingelheim and is responsible for global product quality improvement. Monica lives in Watkinsville with her daughter, husband and their one-year-old Cavapoo dog.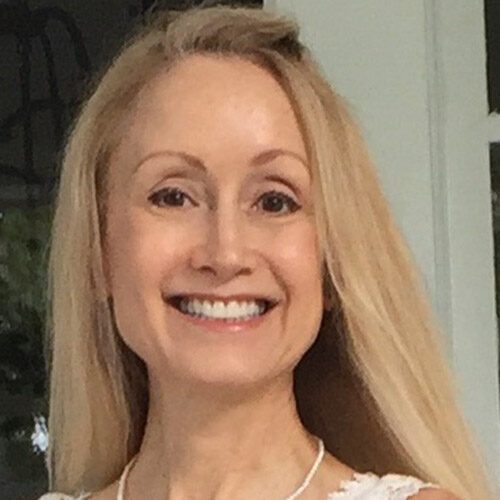 Dawn was born in the Northwest and raised in Athens, where she attended the University of Georgia. Upon graduation, she and her husband Lee Porter moved to the Atlanta area where Dawn explored her passion for travel as a flight attendant with Delta Air Lines. Dawn traded a life of travel to enjoy her role as homemaker and mother. She is the proud mother of her, son Alex, and daughter-in-law Rachel, both UGA graduates. Dawn takes pride in her role as part-time caretaker for neighborhood cat Jade and sitter for Alex and Rachel's adopted dog, Benji. Dawn has an affinity to making environments functional, organized, prospering and beautiful. She has been able to pursue these passions through work in real estate, home décor and renovations (her own home), holistic healthcare and most recently, merchandising representation. You'll also often find her enjoying time in her yard as a novice gardener, and when time allows, trips to Florida.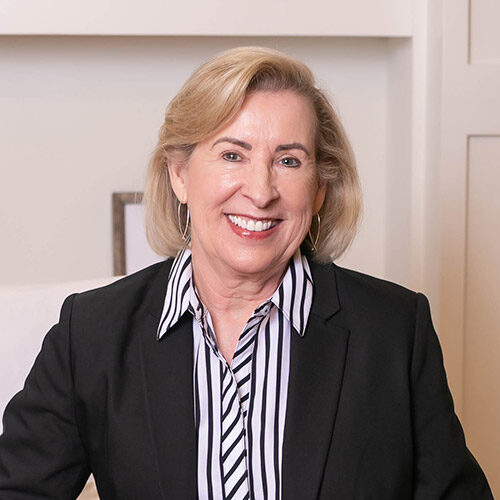 I relocated to Athens in 1996 from Bucks County, Pennsylvania, and It was love at first sight! It was hard to not become a Bull Dawg fan, even if football isn't my sport of choice. In September 2011, I joined Keller Williams Realty Greater Athens, where I found my niche and have been an enthusiastic and productive member within the Keller Williams family. I have become known for my energetic and straightforward approach in working with valued clients, many of whom have become friends. My team and I are passionate in giving of ourselves to our local community. We enjoy introducing our clients to charities that help children, seniors, animals, and special needs groups. My husband, Bill Caputi, and I enjoy living close to downtown Athens, where we spend our leisure time exploring the wonderful venues that the City affords – arts and entertainment, wonderful dining, and other adventures.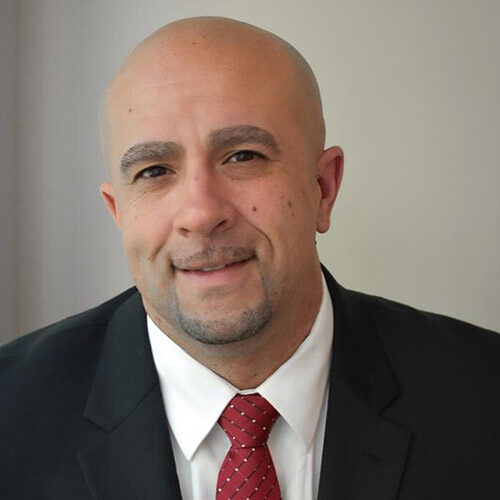 Jason Leonard is a longtime Athens resident who graduated with a Bachelor of Arts in Sociology from the University of Georgia. Jason became owner of his first small business in Athens when he was just 21-years old. Over the next decade, he grew his entrepreneurship to four businesses in downtown Athens and eventually developed a leadership role in the downtown community. In 2019, he attended the first Inter-City Leadership to Columbia, MO, which was hosted by the both cities Chambers of Commerce. Jason is also a real estate agent who specializes in residential development and commercial properties. Currently, Jason serves as chair of the Athens Downtown Development Authority, where he works closely with the local government in a variety of capacities to improve the economic growth of downtown Athens. He has served on several Athens community organizations, including the North Downtown Development Steering Committee, Crime Stoppers Board, Homeless Coalition Board, and the Mayor's Task Force for Inclusion and Equity. Outside of work, Jason enjoys spending time with his wife, Susan. At home, they have two dogs, Yogi the pug and Caesar the doberman, who are best friends.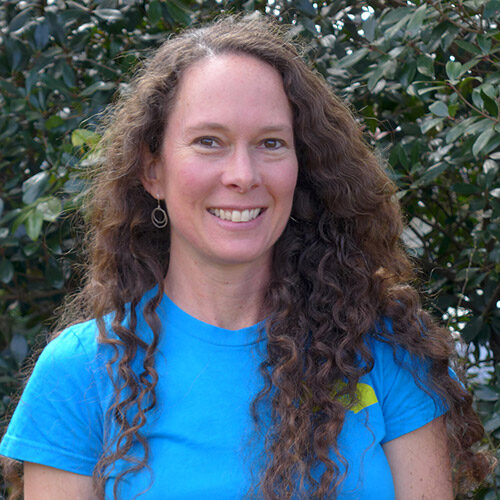 Dana Skelton, the Director of Operations & Advocacy for Georgia River Network. She has served many roles within Georgia River Network since joining in 2002. She is a lover of nature and wildlife and takes walks in the woods almost every day. She has volunteered at Bear Hollow, recording animal behavior observations, and worked for ZooAtlanta in the education department. Dana has adopted three cats from AAHS since she moved to Athens in 2000 and currently enjoys sharing her home with Mystic and Rider.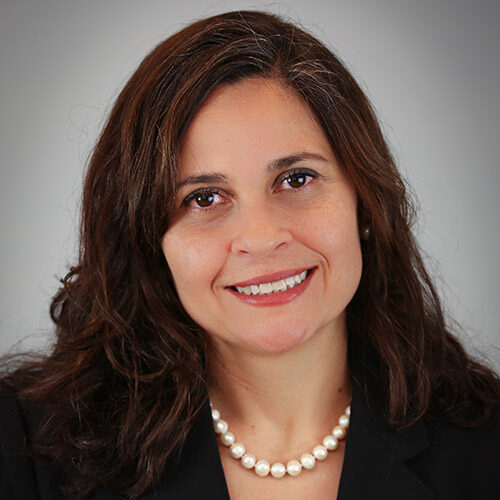 We are delighted and honored to announce that Dr. Carolina Darbisi has joined the AAHS Board of Directors. Dr. Darbisi is Assistant Director & Senior Public Service Faculty at the J.W. Fanning Institute of Leadership Development at UGA. She has more than 18 years of experience in leadership development, adult learning, and nonprofit management, with extensive knowledge of Georgia needs; in particular, how demographic changes influence the design, outreach, and delivery of programs and initiatives within and throughout multiple communities. Her work focuses on designing innovative leadership programs to meet the needs of specific populations such as women, public health professionals, Latino and migrant youth. Dr. Darbisi complements an already remarkable board leadership team of business leaders, community connectors, and animal welfare champions. Dr. Darbisi loves all animals but has a soft spot for dogs.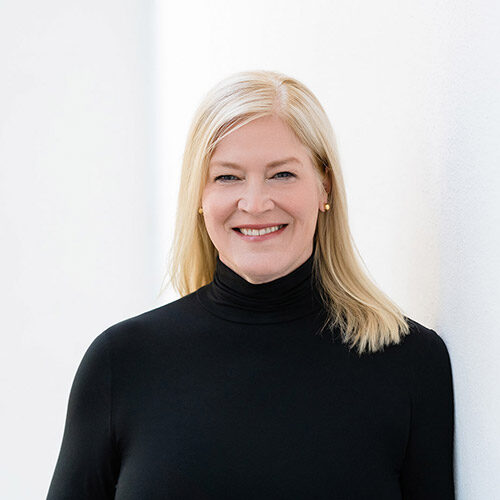 Allison is a strategy-driven and proactive Attorney with a drive to move issues forward, even in unfamiliar territory. She is a motivated, personable counselor who thrives, especially when collaborating with a team; she's an ambitious Attorney with a reputation for being driven and unshaken. She is an Attorney with 15+ years in litigation, administrative law, and experience in the governmental regulatory space. She studied at the University of Georgia for a Bachelor of Sciences, Consumer Economics, and Journalism and then graduated from John Marshall Law School.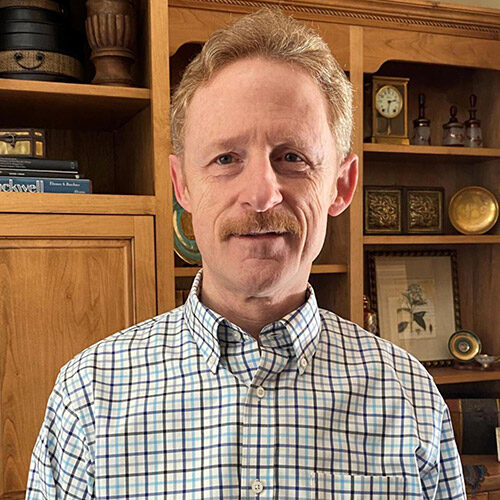 Tom joined Ford Motor Company in 1977 after earning his undergraduate degree from the University of Virginia and MBA from Penn State. After a career in marketing and general management with Ford that took the Spencer family through nine relocations from coast to coast, he and his wife Ginny arrived in Athens in 2008 when he accepted a job as Dealer Network Manager with Carrier Transicold.
Tom's work experience includes positions as Regional Manager; National Franchising Manager; General Marketing Manager and Customer Satisfaction Manager. He has worked extensively with automotive and refrigeration dealer networks.
Tom and Ginny have three grown children in Cincinnati and the Twin Cities and are lifetime dog lovers who previously owned a Golden Retriever and Shetland Sheepdog.
Tom joined the Humane Society Board in January, 2021 after retiring from Carrier in 2020.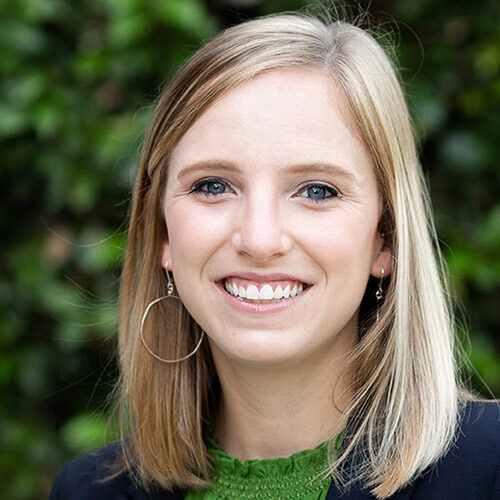 Lindsey Woodard focuses her practice in estate planning and estate administration. She enjoys working with clients to develop an individualized, comprehensive estate plan and regularly drafts documents such as wills, trust agreements, powers of attorney and health care directives. Lindsey also assists clients with matters involving taxation, special needs planning, asset protection strategies and business succession planning. She is also a registered mediator with the Georgia Office of Dispute Resolution.
Lindsey and her husband, Thomas, are both Oconee County natives and currently live in Watkinsville with their goldendoodle, Simba. In her free time, Lindsey enjoys running, playing amateur tennis and taking on household DIY projects.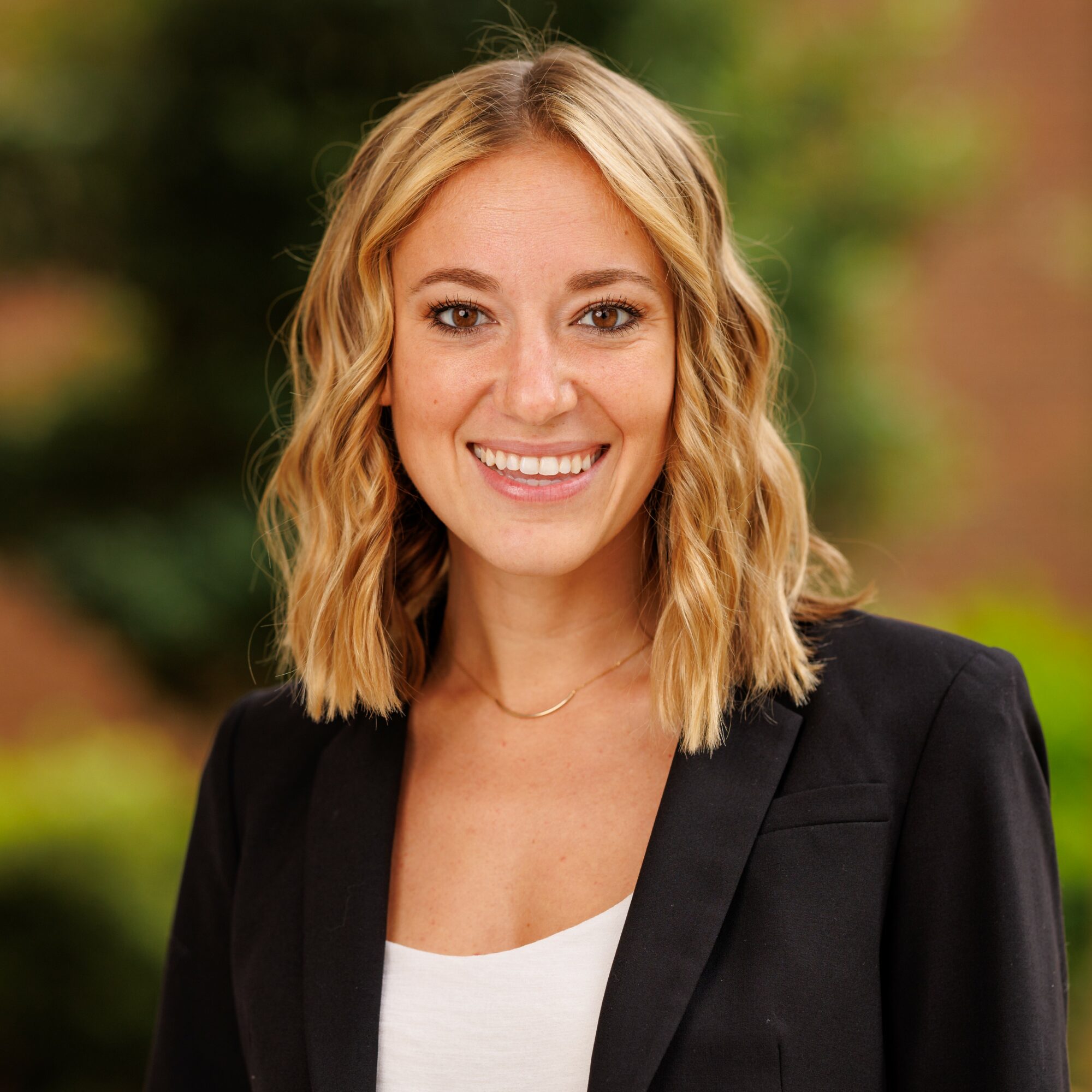 Laura is an MBA candidate at the University of Georgia, who is thrilled to apply her marketing, strategy, and analytics acumen to a vital community organization like the Athens Area Humane Society. She has an undergraduate degree in Secondary History Education from the University of Delaware and brings 10 years of experience in corporate level retail buying, brand management, and business strategy from companies like Anthropologie, Forever 21 and Ross. She's a creative problem solver, a data-driven decision maker, and someone who is excited to roll up her sleeves to make an impact.
Laura's love for animals began at an early age, but strengthened after she adopted Rooster, a fearful Australian Cattle Dog who came into the shelter as a stray. Rooster needed a lot of training but earning his trust and affection over the past year has been one of the most rewarding experiences of Laura's life! She's excited to embody servant leadership in order to learn from, contribute to, and drive forward the mission of Athens Humane.