https://www.youtube.com/watch?v=0-G8ur2d548&t=1s
Welcome
to the site of our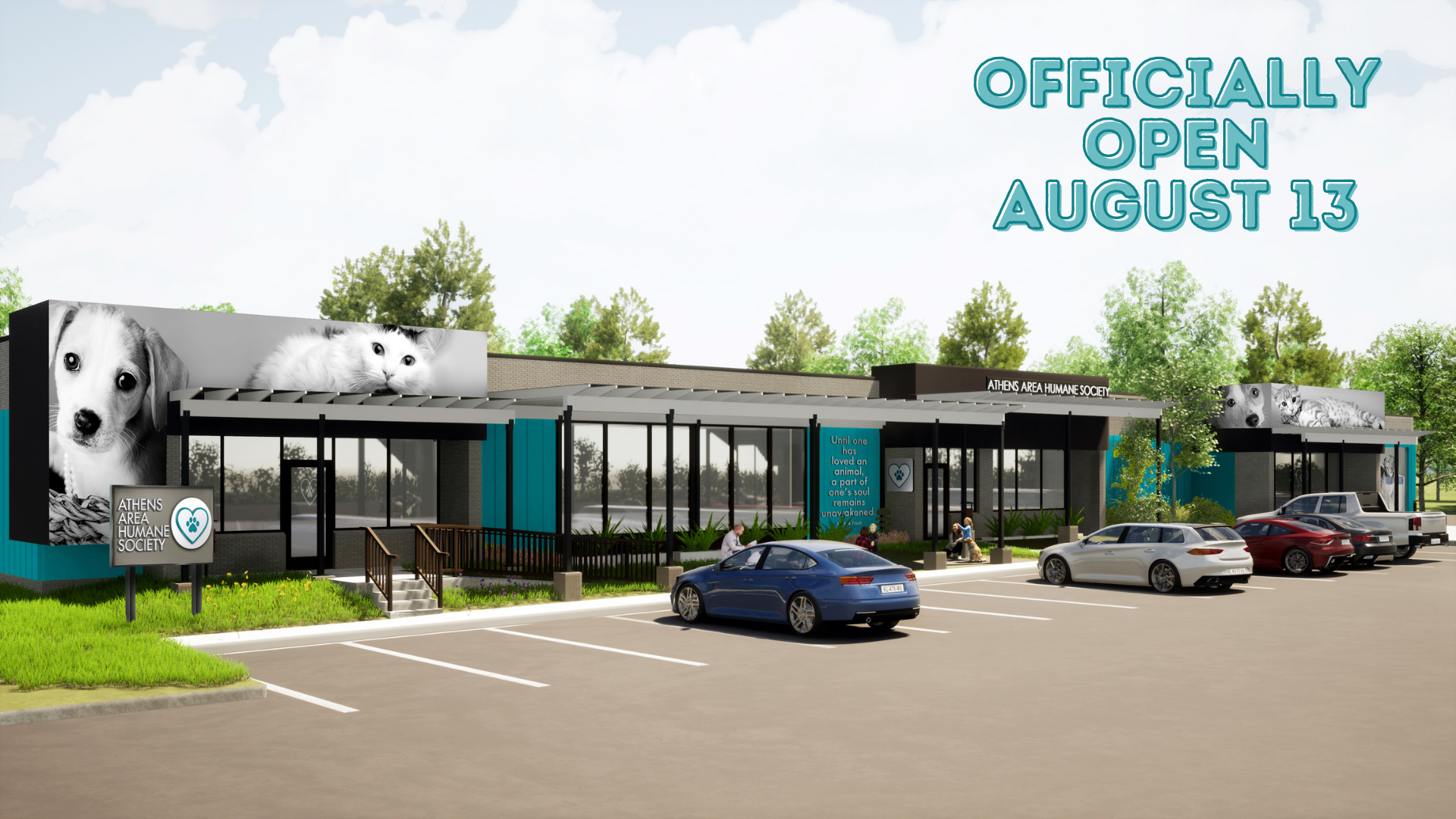 This August, after more than 15 years in a converted daycare center on Mars Hill Road, we will open our Athens newest community pet destination. We began constructing our future home at 1030 Mitchell Bridge Road in Athens in late 2020.  The new space—a 15,000 square-foot industrial building shell—will have a shelter for pets recuperating and available for adoption, and an affordable spay/neuter and wellness center. We will have space dedicated to being used as an education center for dog trainers, community cat caretakers, and public humane education workshops.
The Mars Hill location has been the heart of our organization since 2007 but lacks the capacity to fulfill our dreams and meet the needs of the pets of the Athens area, let alone the surrounding counties. We thoroughly expect that we will be able to increase our capacity to help, heal, and home pets to more than 11,000 animals every year. As it stands, we touch the lives of between 3,000 and 4,000 pets per year in our Mars Hill location.
"We are on a mission to change the perception of what an animal shelter is, we want the public to view the new facility as a community destination — a joyful, friendly place where the inextricable bond between people and pets is celebrated." – Cheryl McCormick, CEO of Athens Are Humane Society
Our new space will provide temporary homes for more than 80 cats, kittens, dogs and puppies—all with dedicated spaces to keep them healthy and comfortable. The 125-space parking lot means we will be able to expand its volunteer corps and public outreach offerings.  The veterinary clinic will double the capacity of the humane society's current spay and neuter program and allow them to offer other affordable vet services to local rescue agencies and pet owners who otherwise have no alternative options.
We took into consideration the experience of pets and pet owners alike to be while constructing our new facility. We put the animals' welfare front and center and made design choices around that. The color pallet is meant to be calming and there are acoustic dampening materials to buffer sounds that would otherwise startle other pets and pet owners.